Studio Monthly Social Dance Parties
 

Monthly Social Dances held at the studio
Line Dance Party held every 2nd Saturday of the month
January 13, February 10, March 10, April 14, May 12, June 9, July 14, August 11, September 8, October 13, November 10, December 8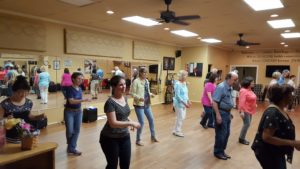 We have four amazing Line Dance Instructors from this area who are going to be a part of this Line Dance "Party" for YOU.
Cost Only $5.00
Starting @ 7:00pm TWO "Line Dance" will be taught by ONE of our Dance Instructor.
Then it will Social Line Dancing until 9:00pm.
 Come out and have fun and don't forget to bring a Friend and learn some of the oldest as well as the newest line dances.
No Signing up…Just Show Up!  No partners necessary.
Water and light snacks will be provided.

---
Partner Dance Party every 3rd Saturday of the month
---