Instructors
Meet Your Instructors
Ballroom
Woody Denmon
American Ballroom Instructor

Sherwood Leo Denmon, Jr. (aka: Woody). Woody has been instructing different styles of American Style Ballroom and Latin dances for 10 years. Throughout his four years teaching career he has choreographed many first dances for wedding couples, father daughter dances, and showcases. He teaches variety of ballroom dances such as Waltz, Foxtrot, and Tango, as well as multiple Latin dances such as the Salsa, Cha Cha, Rumba, and East Coast Swing. The dances he enjoy the most are the fun and sexy Salsa, the hot and exciting Tango, and the flirty Cha Cha. He really enjoy dancing but nothing is more exciting to him is to a students face light up when they have learned a dance and performed in front of crowds and enjoyed themselves.
Country & Western Dance Instructors
Brian & Melinda Evans
Brian & Melinda are no strangers to the Country World. They have completed in the United Country Western Dance Council UCWDC event. They have been teaching for 5 years.
West Coast Swing Instructors
Cindy & Mike Norge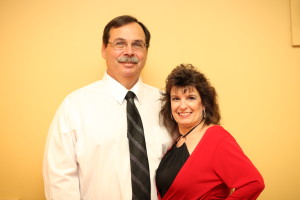 Cindy & Mike has been teaching and completing in the World Swing Dance Council (WSDC) for 8 years. They travel to different workshops and takes private lesson from Pro West Coast Swing Instructor to better themselves as dancers and instructors.
Latin Instructor
Deborah "Dede" Anderson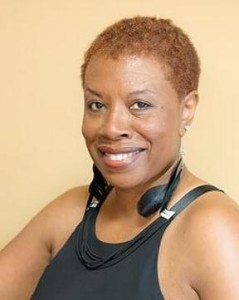 A native of New York City, Dede found Salsa Dance in her junior years in school that became a newfound love that progressed to her adult years. During this period, she was approached to join and tour abroad with The LaRocque Bey Dance Theater African Dance troupe at age 14, she won contests at the Stardust Ballroom, The Roxy, Copacabana and local social parties, as well as paired with a partner creating Salsa routines for Latin Dance events, and provided private instruction for couples and groups. Additionally, here in her home of Hampton Roads, Dede found a way to incorporate dance into her Vinyasa Yoga sequences after attaining her RYT-200 Yoga Instructor Certification and training through Zenya Yoga Academy here in Newport News, with a self-created "Yoga Dance" format incorporating Latin Dance. She has taught at Garden of Zen, Zenya, and a major corporation as part of their Wellness Program. Dede has also studied Modern, Improvisational and African dances, as well as helped to warm up the NYC Marathon Runners while honing her Jazz Dance skills at the Broadway Dance Center under Sue Samuels and Frank Hatchett. Dede loves to share her passion and love for Salsa, especially with beginners to the dance, showing how you can express yourself, have fun, get great exercise and share something with a community of others in Newport News, the Peninsula and anywhere!
Zumba Instructors
Elizabeth Tran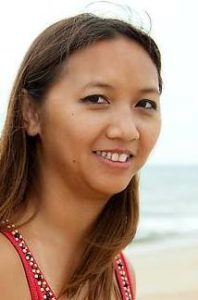 Elizabeth has been Zumba certified for over 2 years and has taught at various locations throughout Newport News.  She is looking forward to continuing her Zumba passion at Country Bootleggers and can't wait to start teaching. She is married to her wonderful husband for 12 years and they have 2 beautiful daughters.  She grew up in Newport News and still lives with her family.  She currently is a HR Analyst for a government contractor.
Margaret Aleman
Born and raised in Puerto Rico, Margaret has the moves in her veins…  She's discovered a way to merge her Latin heritage, experience dancing Latin rhythms, and passion for sports and fitness through Zumba®.
Margaret used to work in Marketing at an Insurance Company but she left the corporate world to raise her two beautiful daughters with her husband Kevin.  After moving to VA, she fell in love with Zumba® realizing the incredible energy that she had after each class.  That would keep her coming back for more and more!  Her weekly classes, quickly become three and four weekly visits.  Margaret was having so much fun, in addition to noticing the huge physical, emotional and mental benefits, that she decided to take it to the next level and become an Official Zumba® Instructor.
Hip Hop & Popping Instructor
Eric Cruz
Objective-
To inspire and captivate the solidarity of dance expression, performance, and education utilizing effective, practical and gradual teaching methods.
Applying skill sets both professionally as an established Instructor of 15 years, and an artistic individual living and sharing his love of Hip-Hop culture, and the urban dance art form known as Popping since the age of 9. Dance Training Experience (1984-2016). Has received training under Duggan Hill of Boston City Lights, Adrienne Hawkins of Impulse Dance Studio, Edwin Rivera and Danny Dan Hale "Century 3", Shallow and Tron "The Floor Lords", Andre Diamond inventor of the "Bopping and Animation".
Michael Jackson's personal dance coach of 18 years Bruno Falcon (aka Pop N Taco), and has performed for Neil Young 3 occasions under Choreographer/Actor Russ Tamblyn of "West Side Story" (Riff leader of the Jets).
Boston City Lights, Extreme Dance Sport, Brookline Academy of Dance, Fred Astaire Dance Studio, Impulse Dance Studio, Champions of Dance, Nicole Zervas Dance Academy, Dance Complex, The Dance Place, Boston Center For Adult Ed, Brookline Center for Adult Ed, Brookline Community Center For The Arts.
Lesley University, Boston University, Boston College, Colleges of The The Fenway, Emmanuel College, North Eastern, CNU, Weston High School, Belmont Day School, Gavin Middle School, Boston Charter School, Pierce School.
Reebok Headquarters, Boston Sports Club, Fit Corp, Plus One Fitness, Beacon Athletic Club, Health Works, Benefitness, and China Town YMCA.
PRAISE FLOW Yoga
Bettina Lee
Bettina Lee first began practicing yoga in 2002. Being a former college athlete and having a dance background, Bettina thought it was easy and was over confident. The result? She got injured and also did not delve into the life lessons yoga offers. But, Yoga kept calling her name! In 2009, she became pregnant with her son and experienced yoga in a different light. She decided she wanted to study.  She received her CYT-200 certificate in Hatha Yoga from Aura Wellness Center in 2017. She see herself as a Yoga Guide and hope to aid you in your journey.
Bhakti Yoga with Movement
Yoga is not a religion and actually consists of eight limbs; one of them being Bhakti. The Sanskrit word bhakti comes from the root bhaj, which means "to adore or worship God." Whatever your religion or whomever you pray to, this class serves to honor and respect your personal relationship with God through music, meditation and movement.
Certified MixxedFit Instructor
Charmaine Henry

Charmaine has been a dance fitness instructor for 1 year. Certified in the People Inspired
Dance fitness format MixxedFit, in which she started as a student in classes about 2 ½ years
ago and fell in love with it right away. Charmaine is a lover off all things fitness but mostly
dance fitness, to include ZUMBA. She has been living in Newport News for over 20 years, but
comes from a small town in the Northern Neck/ Lancaster County, VA area. Charmaine is a
single mom of 2 and works full time a local OB/GYN practice here in Newport News as a
Clinical Coordinator/Medical Assistant.
"In the dance fitness world there are so many different styles, even though its the specific
format name we are representing, we are also representing our own unique selves and styles.
I'm excited to bring you my style and can't wait to dance with you!"